services
we can change your mind
---
Life at Angelic Mansions begins a new chapter, possibly the best chapter because new friendships are formed, new activities explored, and new experiences are welcomed in a safe, secure and luxurious environment that enriches you and allows you to not only enjoy life but flourish because you deserve to have it ALL - Affordable Luxury Lifestyle.
Life at Angelic Mansions is individually tailored, just like home. Our focus on wellness and independence ensures numerous opportunities to nourish the many dimensions of life, including the Physical, Emotional, Intellectual, Social, Environmental and Spiritual components. While personal hygiene, meals, housekeeping and laundry are meticulously attended to, the many available activities combat helplessness, loneliness, and boredom. Our commitment to efficient and innovative operations allows us to reward you with unexpected and unbeatable value, quality and service.
Our array of remarkable amenities and services nurture the body and mind. Our sumptuously appointed sanctuaries create enclaves of quiet and serene relaxation. Or when you feel young at heart, the many exhilarating activities beckon and inspire you to infuse your soul and body with unforgettable experiences.
When you trust us with the care of your family members, you can be freed of your guilt because you are assured that the care and service we provide exceeds your expectations and is unrivaled. At Angelic Mansions, you will be freed of your worries but held captive by our unbeatable value, luxurious amenities and impeccable service.
The basic monthly services begin at just $2,440/Month for a shared room with a shared bathroom. We are confident of the extraordinary value we provide and not only invite but urge you to compare our value, quality and service.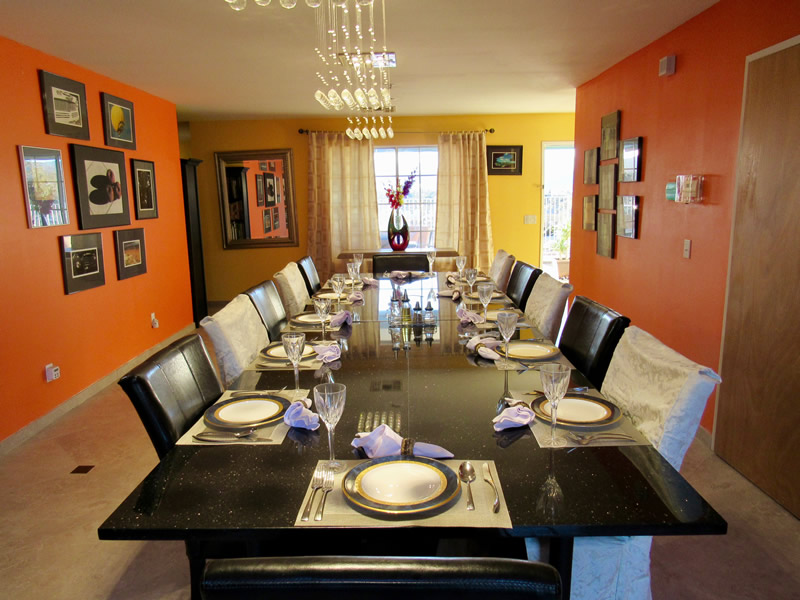 about the staff
---
Our staff is thoroughly screened and have to pass state mandated background checks. In addition, Angelic Mansions conducts its own rigorous background checks which include unannounced drug screenings. Staff undergo monthly training by physicians and other clinicians on dozens of applicable topics like Dementia, Heart Disease, Cancer, Diabetes, Stroke, Arthritis, Parkinsons and Transfer techniques.
Some staff may have additional training and/or certifications in some areas and so may be assigned to residents who have that diagnosis. If a resident has a new diagnosis, then a Clinician gives a seminar regarding that diagnosis within 2 weeks of admission so that all staff are familiar with the new diagnosis. Clinicians not only provide ongoing training but also provide oversight of all care givers. Feel secure that all caregivers have access to clinicians 24/7. Residents may also ask clinicians general questions but specific questions must be directed to the residents own physician.